---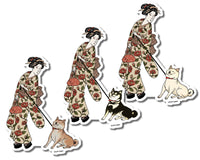 Stubborn Shiba Co's first collaboration with the extremely talented Ukiyoe-haaan (Instagram).
Get this one of a kind T-shirt featuring a Geisha as she elegantly struggles to walk her Stubborn Shiba, just as we know them!
Ukiyo-e[a] is a genre of Japanese art which is from the 17th through 19th centuries. Produced on woodblock prints and paintings of such subjects as female beauties; kabuki actors and sumo wrestlers; scenes from history and folk tales; travel scenes and landscapes; flora and fauna; and erotica. The term ukiyo-e (浮世絵) translates as "picture[s] of the floating world".
Multi-purpose sticky backing allows the weather resistant sticker to be placed on anything and then easily removed and restuck anywhere. Each sticker will have a 1/8" white border.